India growth
From Special
Growth of India
Infra structure ,Per Capita income and power conception statistics of India during 1947-2012
In the development of infra-structure,power occupies an important role. Since the commencement of planning,there has been more than four-fold increase in installed capacity from 2.4 million kw to over 10.0 million kw reported officially in the year of 1966.There has been progressive rise in the national income during the years from 1947-1966.National income increased from Rs 86.5 billion to Rs 149.3 Billion in the period of 1947 to 1966.The per capita income during the period went up from Rs 249.6 to Rs 314.4.
Per capita income rise up from 314.4(1966) to 50000(2012), shows up a significant growth in Indian per capital Income in last 50 years. As per the latest statistical survey per capita income of India is expected to cross 60000 in the financial year 2012-2013. Installed power in 1966 was 2.4 million kw and it went up to 203 Gigawatt.India ranked among top 5 for installed power currently.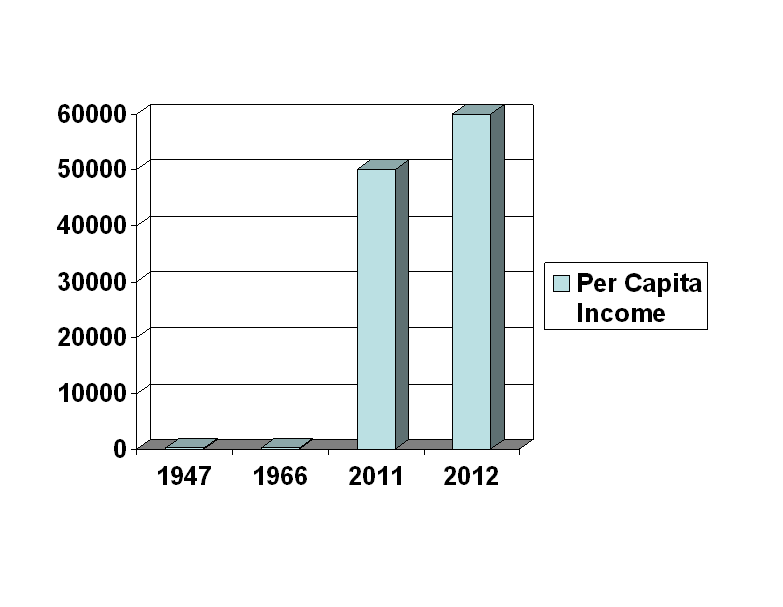 Transport
The transport systems of the country have not only been modernized but expanded appreciably in different directions. In 1966 India had a network of 57,000 kms of Railways.The Railways are the chief means of organized transport in India. The Capital at charge of Indian Railways has increased from 8.3 billion Indian Rupee Rs to 26.5 Billion Indian Rupee in the period of 1947 to 1966. The length of road in India 525,000 Kms(.5 million km) in 1966.The progress of shipping has been considerably marked,tonnage increasing from 391,000 GRT in 1947 to 1.5 million GRT in 1966 raised to 9347702 GRT (9.34 million) in 2011
57,000 kms of Railways in 1966 is more than doubled in 2012 ~114,500 kilometers ,and India has acquired the 4th position in terms of length. Capital at charge or Railways increased from 8.3 Billion 1043.0125 Billion in 2008-2009 1230.0069 Billion in 2009-2010 , 1042.7879 Billion Indian Rupee 2011-2012 statistics.
Road network of India has seen a substantial growth of 43,20,000 km (4.3 million Km) in 2012 from 523,0000 (.525 million) km in 1966 and is in top 5 road networks in the world in terms of length.
Technical Education
The progressive industrial development of a nation can be sustained and explained only by an adequate flow of scientific and technical personnel to man the various projects.The number of engineering and technological colleges in India has risen exponentially. As per the 1966 statistics there were around 70,000 students per year and 7,50,000 students are produced each year currently shows a 10 times increase in 10 years.
8 core Industries index of India.
The rise in index number of eight core industries is substantial evidence of growth of India.
See statistical chart to see the growth of 8 core industries of India.
statistical chart: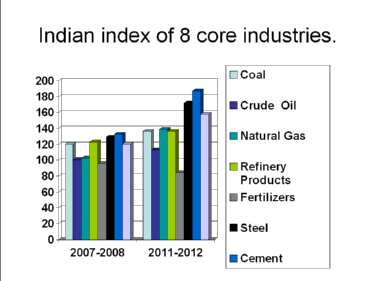 More on India